UPU Sammlung Collection ALL WORLD ab from 1878 917 Pages 8 Albums MNH many good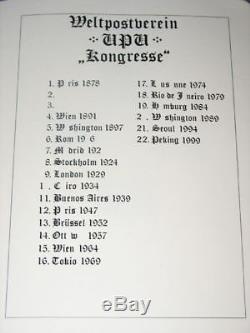 Schauen Sie bitte auch in meinem "Shop" vorbei. UPU Kongresse Spezialsammlung ab 1879 (Paris) bis 1999 (Peking). Untergebracht in acht sehr sauberen, mit enormen Aufwand gestalteten Alben.
Sie haben hier die Möglichkeit eine 917 Seiten starke Sammlung zu den UPU Kongressen zu erwerben. Enthalten sind Ausgaben aus sämtlichen Ländern die diese Ereignisse gewürdigt haben (von A bis Z). Darunter einige Besonderheiten, wie Probedrucke, seltene Kleinbogen, Goldmarken, Abarten, Fehldrucke, sehr viele ungezähnte Parallelausgaben, Luxusblöcke, teure Serien wie Berlin 35-41 (PF), Kambodscha Aufdruckswerte, SoBl Ungarn, gute Süd Korea, Saudi Arabien, China Ausgaben, Khmer, Laos, Kolonien etc. Da die komplette Sammlung abgebildet ist, wird das Laden der Bilder etwas dauern --> Bitte runter scrollen. Die Sammlung ist zu über 99% Postfrisch, habe lediglich einige wenige ungebrauchte Werte ausgemacht.
Michel ist deutlich über 20.000,- EUR. Part of this offer, is a UPU Congresses collection from 1878 (Paris) until 1999 (Peking).
The collection is housed in eight (8) very clean and decorative, self made Albums. It contains of in total 917 pages.
Included are all issues from the several countries which savor this event with a stamp issues (from A - Z). Also part of this collection, are several RARE specials like proofs, seldom mini sheets, gold / foil stamps, varities, missprints, many imperforated parallel issues, Luxus / Deluxe Blocks, many expensive set like Berlin (Michel 35-41), Cambodie ovp. Issues, Special Blocks Hungary, good South Korea, Saudi Arabia, P. China, Khmer, Laos, Colonies and many more.
You can find the pics from the complete collectin below. ATTENTION the loading of the pics may take a while due to the big quantity. The collection is to over 99% MNH, only few less issues are MLH. Michel is over 20.000, -EUR. Beachten Sie bitte meine AGB´s auf meiner MICH Seite.
PLEASE DO NOT PAY IMMEDIATELY, PLEASE WAIT FOR MY INVOICE! Warten Sie bitte immer auf meine Rechnung! Ich fasse die Einkäufe für den Versand zusammen!
Sie finden die AGB´s, auf meiner MICH Seite! Please have a look on the scanned pictures and the description of the items. Doing that is against German and international laws. Please do not start any discussion with me about that. I always charge applicable costs in accordance with the post rate. Scans are provided for a reason. I generally do not accept the return of complete collections or very big lots. Standard Size max 235 x 125 Millimeters = 9.25 x 4.92 Inch. Up to 20 grams / up to 0.70 ounces. Up to 50 grams / up to 1.75 ounces. Large Size (from 236 x 126 Millimeters = 9.26 x 4.93 Inch). 100 - 500 grams 3.50-17.50 ounces. 500 - 1000 grams 17.50-35 ounces. Stellen Sie Ihre Artikel schnell und bequem ein und verwalten Sie Ihre aktiven Angebote. The item "UPU Sammlung Collection ALL WORLD ab from 1878 917 Pages 8 Albums MNH many good" is in sale since Saturday, October 23, 2010. This item is in the category "Briefmarken\Motive\Post & Kommunikation". The seller is "topic-stamps" and is located in Fürth. This item can be shipped worldwide.
Echtheit: Echt
Land: alle Welt
Angebotsumfang: Spezialsammlung
Motiv: Postgeschichte