BAYERN 1849/1920 Collection in Red Lindner Album CV + 9800 euros / 11880 USD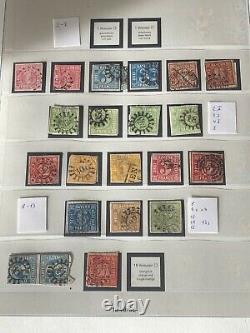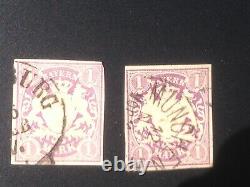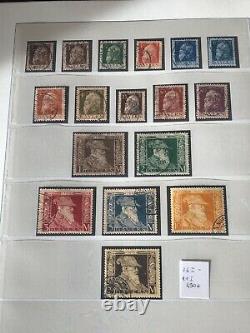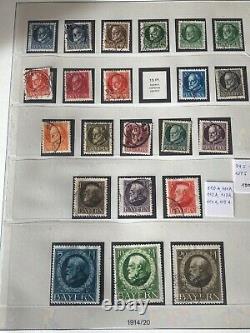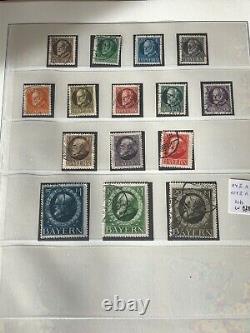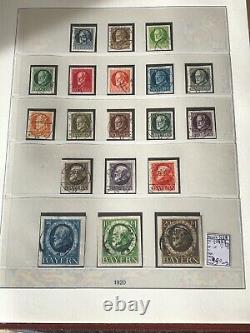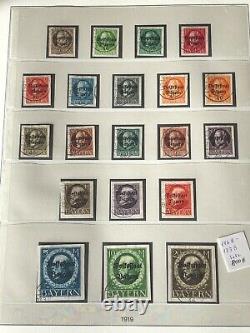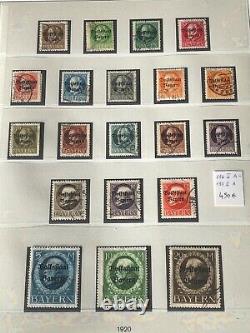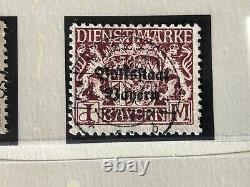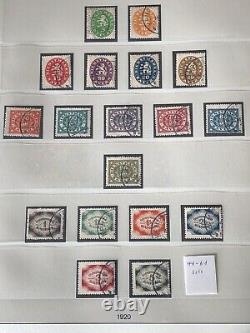 BAYERN 1849/1920 - Collection in Red Lindner Album CV + 9800 euros / 11880 USD. You can see all scans (88 scans) following the link. All stamps are Extra Fine (XF) otherwise indicated as follows Very Fine (VF), F (Fine), D (Defect).
Total CV = 9869 euros / 11880 USD Michel 2017. Price: 1479,90 Euros / 1795 USD. New Price 21/7/2020: 832,90 Euros/1015 USD. 3Ib CV70, 4II3 CV10, 5IIIc CV25. 11 CV25, 12 CV100, 13a CV 200.
Mi 14a CV20, 14b CV40, 14c CV 75, 15, 16 CV25, 17 CV 50, 19 CV 250, 20 CV 60, 21b CV 50, 22aX CV 15, 24X CV100, 25aX CV50, 25bX CV65. Page 3 (1870/1875): Mi 22aY CV5. 23aY CV5, 25aY CV6, 27aY CV20. Page 4 (1876/1911): Mi 37-42 CV45, 43-44 CV170, 45a CV30, 45 CV70, 46 CV40, 47-53 CV20, 53xa CV8, 53ya CV5, 64x CV20, 64y CV10, 75.
Page 5 (1888/1911): Mi 54x CV3, 55xa CV9, 55xb CV15, 56-63x CV13, 56y, 57y, 60-63y, 65x, 65y, 66-67y, 68x, y, 71-74 CV100. Page 6 (1911): Pince Luitpold Mi 76aI, 76cI CV55, 77-78I, 79aI, 79bI, 80-83I, 85-91I CV450. Page 7 (1911): Pince Luitpold Mi 76-88II CV120, 92-93 CV5. Page 8 (1914/1920): Mi 94-95I, 96Ia, 97-109I CV 900, 110-114 CV15, 115a CV5, 115b CV50, 115c CV60.
Page 9 (1920): Mi 94IIB, 97-109IIB, 110B, 112-115B : used CV 550. Page 10 (1919): Mi 116-135A. Page 11 (1920): Mi 116-135B. 136-147 CV 40, 148B CV8. 149-151B CV50, 177I, 177II, 177x CV30.
152-170B CV 680, 174-176B CV150. 171-173 CV10, 178-186, 187a, 187b, 188-190, 192-195 CV195. Mi D1-5 CV20, D6-11 CV 30, D12-13, D14a, D14b, D15 CV 160, D16-18, D19a, D20-24a.
D24c CV 100, D25-28 used CV25. Mi D30-31, D32a, D33-43 used CV600. Mi D44-61 CV MH15/MNH 30/used 900. P4 (x2) CV 50, P5 CV20, P6a, P6b CV 20, P9 (x2) CV2, P10-13x CV20, P10-13y CV20. TOTAL CV: 9869 Euros (Mi).
Abrievation used to described the stamp condition. MNH = Mint Never Hinged. XF = extra fine (Superbe, Luxe). VF = very fine (Très bon).
D = defect with some faults (faults are always described). Attest/Photo attest will increase the price (more or less 7% of the CV + 35 euros per photo if CV is greater than 1000 euros). For each unpaid lot during 15 days, a litigation for an unpaid item will automatically be opened. All our items will be sent in parcels or registered letters. BRD, RDA, Berlin, Deutch Reich and Old German states (Baden, Bayern, Berge dorf, Braunschweig, Bremen.
All stamps from Baden including Mi 1a, 21 22 (a, b) and other shades. All stamps from Bayern including Mi 1, 18k, Luitpold shades and some specialties.
(all MNH year sets until 2002), RSI, Italian states almost all from Modena, Romagne and Papal state. For Old German States "Altdeuchland" (Baden, Bayern, Bergedorf, Braunschweig, Bremen, Hambourg, Hannover, Helgoland). "Altdeuchland" (Lubeck, Mecklenburg-Schwerin, Mecklenburg-Strelitz, NordDutscher Bund, Oldenburg, Prussen, Saxe/Sachen, Schleswig-Holstein und Lauenburg, Thurn and Taxis, Wurttemberg).
For Germany (BRD, RDA, Berlin, Deutch Reich). For Italy including Old Italian states Modena, Romagne, Papal State.. Regno, RSI, all MNH year sets from 1945. _gsrx_vers_856 GS 7.0.20 (856).
This item is in the category "Stamps\Europe\Germany & Colonies". The seller is "wilfrid59_altdeutchland" and is located in this country: FR.
Certification: Uncertified
Grade: Ungraded
Place of Origin: Germany & Colonies
Quality: Used
Region: Bavaria