Bayern / BAVARIA 1849/1920 Collection in Brown Lindner Album CV + 9 700 euros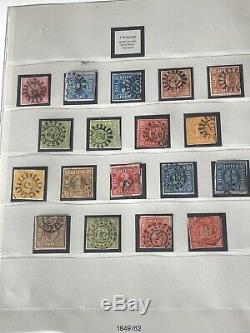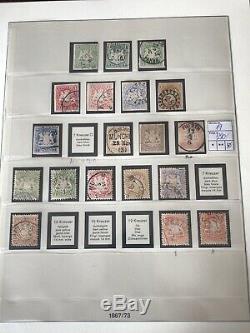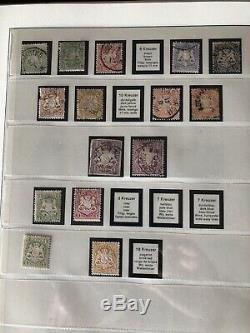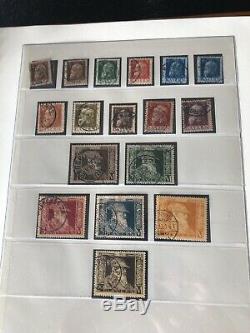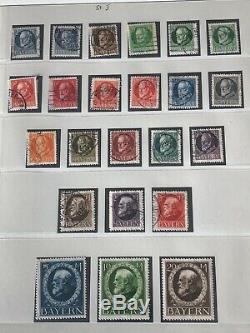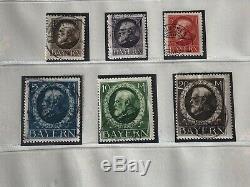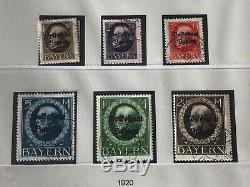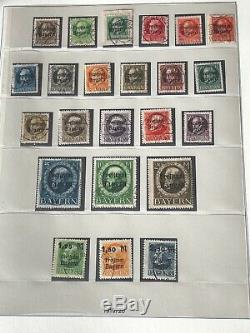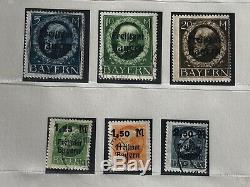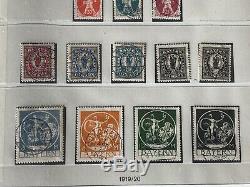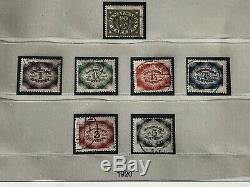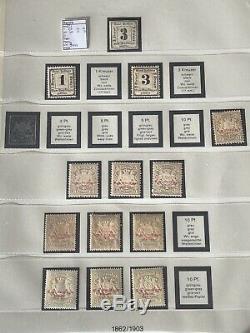 Bayern / BAVARIA 1849/1920 - Collection in Brown Lindner Album CV + 9 700 euros. All stamps are Extra Fine (XF) otherwise indicated as follows Very Fine (VF), F (Fine), D (Defect).
All scans are avaible below (follow the link). Total CV = +9 700 euros Michel 2018.
Mi 2Ia (CV 90), 2IIb, 3Ia, 4II2, 4II3, 5IIIc, d, 6 (CV 200), 7 (CV 270), 8Ix2, 9a, 10a, 10b, 11, 12 (CV 100), 13a (CV 220), 13b (CV800). Mi 14a, b, c; 15a, bx2, 16, 17, 18, 19, 20a, b, 21, 22xa, 23Xa, 24X, 25Xa, 28X, 27Xa.
The other pages contains (CV+6410). Page 3: Mi 23Y-29Y 30b, 31b 32-36. Page 6 (1911): Pince Luitpold Mi 76aI, 76cI CV55, 77-78I, 79aI, 79bI, 80-83I, 85-91I CV450.
Page 7 (1911): Pince Luitpold type II + 92-93. 94 IIA-109IIA used XF CV120. Page 9 (1920): Mi 94IIB, 97-109IIB, 110B, 112-115B : MH CV30. Page 10 (1919): Mi 116-135A.
CV170 (128IA-130IA used CV150) 131IA-133IA MNH. Page 11 (1920): Mi 116IIA-135IIA. 136-147 CV 40, 148B CV8.
149-151B CV50, 177I, 177II, 177x CV30. 152-170B Used / MH CV 680 (used)+30 (MH), 174-176B Used CV180. 171-173 CV10, 178-186, 187a, 187b, 188-190, 192-195 CV195.
Mi D1-5 CV20, D6-11 CV 30, D12-13, D14, D15 CV 160, D16. Mi D25-29, D30-42 used CV200 + 43 MH.
Mi D44-61Used XF CV MH950. Page III/1 (1862/1903): P1 MH (200). P2X CV 20, P3X CV20, P5 CV100, P6 CV 20, P9 CV2, P10-13x CV40, P10-13y CV30. CV: +9 720 Euros (Mi). Total (with attest/photo attest) = possible for high CV stamps ask for this. MNH = Mint Never Hinged. XF = extra fine (Superbe, Luxe). VF = very fine (Très bon). D = defect with some faults (faults are always described). Please ask for details or additional scans. Baden including Mi 1a, 21 22 (a, b) and other shades. Bayern including Mi 1, 18k, Luitpold.
Italy (not all stamps from italian states). For German State/Altdeuchland Baden, Bayern, ? For each unpaid lot during 14 days, a litigation for an unpaid item will automatically be opened. All our items will be sent in parcels or registered letters.
_gsrx_vers_841 GS 7.0.16 (841). The item "Bayern / BAVARIA 1849/1920 Collection in Brown Lindner Album CV + 9 700 euros" is in sale since Thursday, April 25, 2019. This item is in the category "Timbres\Europe\Allemagne, anciennes colonies". The seller is "wilfrid59_altdeutchland" and is located in Camphin en Carembault. This item can be shipped worldwide.